How would this Affect United Methodist relationships with Jews?
"There's only one way to call Israel to order. That is, by a strict regime of boycott, disinvestment and sanctions from all nations who still embrace the most important ideals of humanitarian behaviour." Dr. Hajo G. Meyer, Holocaust survivor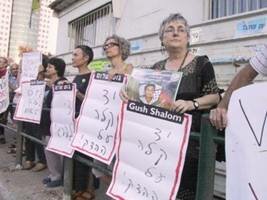 Jewish Israelis demonstrating for a just peace.
The United Methodist Church has long valued and nurtured relationships with Jews around the world. The divestment action is supported by many Jewish organizations. It is aimed not at Israel or companies that do business there, but at companies that profit from the occupation, which is doing great damage to Israel. We have worked closely with many Jewish groups in our research and in the development of our proposals.
Other Jewish groups oppose our initiatives, and it will take time for them to see our actions as beneficial to Israelis and Palestinians alike. We must reach out in love to our Jewish brothers and sisters, helping them to see the reality that has been kept from all Americans. We need to let them know that people in our own faith community as well as theirs are being destroyed by the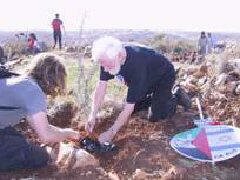 Jews planting olive trees on destroyed West Bank land. Photo by Rachel Avnery

occupation. Yet we must not allow our concern for interfaith harmony to take precedence over Christ's command to stand up for those who are oppressed. In the long run, we believe people of every faith will admire us for putting actions behind our words.

A group called Jews Against the Occupation wrote to New England United Methodists in 2005, saying in part, "We can think of no greater act of friendship than to risk being defamed in order to remind one's friends of their own ideals when they, themselves, have forgotten them…. we believe that the day will come, be it in five years or fifty, when the Church's action in this matter will be remembered with love and gratitude by Jews around the world."

Used with permission from Chicago chapter of Jewish Voice for Peace